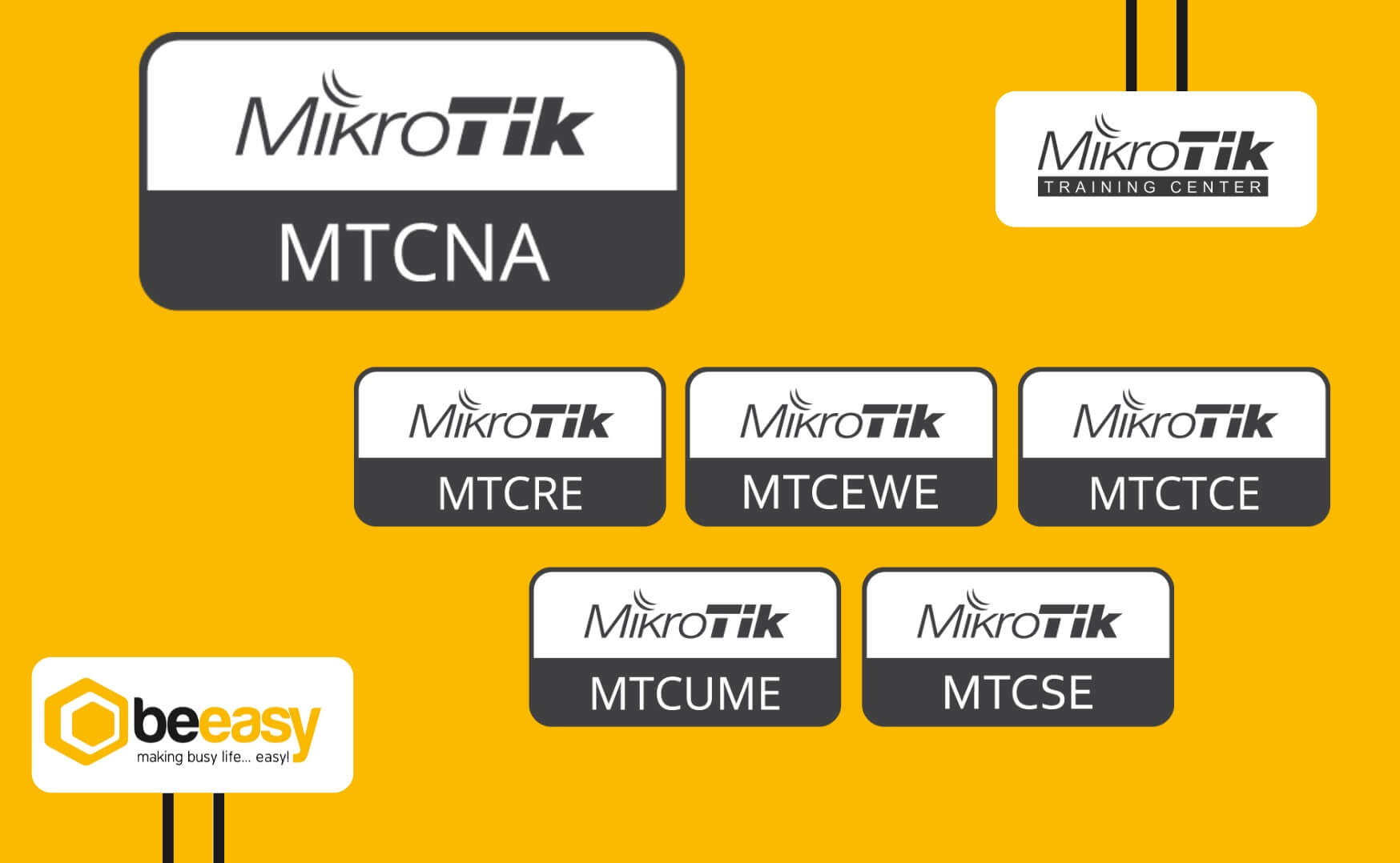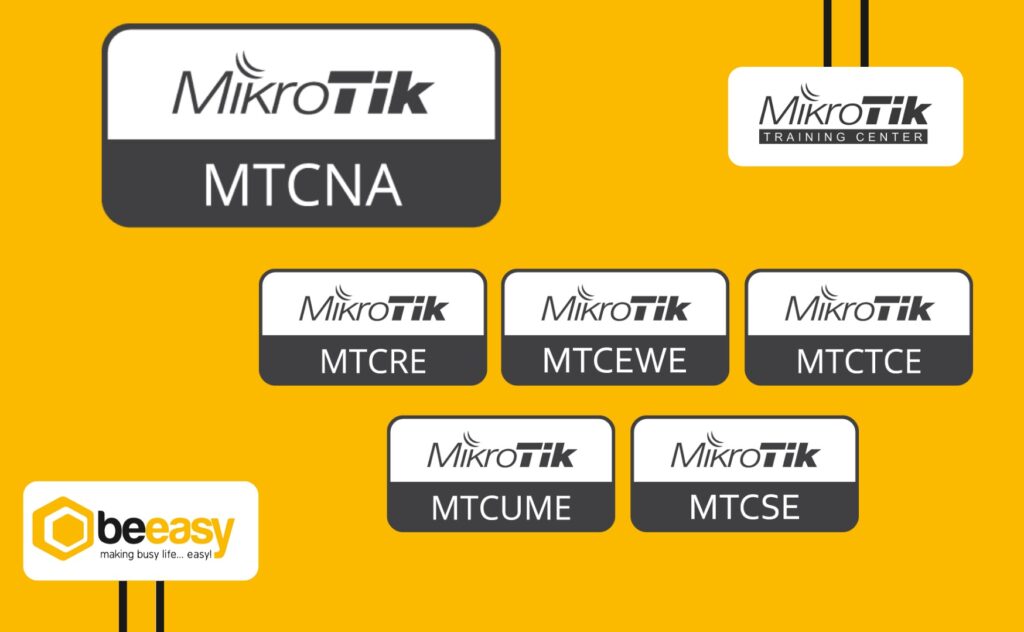 MikroTik Certified Training Center
MikroTik training sessions are organized and provided by MikroTik Training Centers in various locations around the world.
beeasy is the only MikroTik Training Center in northern Greece!
The many years of experience of beeasy executives in the field of Networks and in the implementation of network scenarios throughout the range of Routerboard products, led us to the next step which is the organization of MikroTik certified trainings and examinations (MTCNA, MTCRE, MTCSE, MTCWE, MTCTCE, MTCINE).
Engineers, technicians & network administrators who are interested in expanding their knowledge in routing and management of wired and wireless networks using MikroTik RouterOS products can apply.
MikroTik's cycle of seminars and certifications aims to acquire specialized knowledge in order to effectively manage, configure and solve problems that arise in MikroTik Routerboard equipment.
Find out the dates and cycles of MikroTik seminars in the calendar and apply now!
Why with beeasy ;
• Many years of experience in wireless and wired microwave links as well as in the creation and implementation of various network connection scenarios.
• Clientele in Greece and abroad.
• Certified trainers (MikroTik Certified Trainers) who are active professionals in the field.
• Support after the end of the seminar to resolve questions that will arise on-the-job.
• Free knowledge level recognition test in the subject you are interested in (you can take the test online here, select sign up->student, paste the course code: VR32-99N2-4XWN4, fill in the details, take the test).
• The cost of the seminar can be covered through fundin from LAEK of OAED, where support is provided for the submission of the program by specialized executives of our company.
However, in addition to the official courses and the required content of MikroTik, beeasy organizes and delivers specialized seminars and support on issues related to individual needs of network professionals.
Training schedule: 09:00 – 17:00
Venue: beeasy – Fragkon 14, Thessaloniki, Postal code 54626
Participation cost: 390€/σεμινάριο
Trainer: Giovanis Ioannis
The price of the seminar includes:
Course material in printed and digital form
MikroTik Marketing Material
Coffee break
Lunch break
Free MikroTik RouterOS Level4 license
Participation in the MikroTik exams for obtaining the certificate
By applying in two or more seminars, a 15% discount is provided in the next seminar and we give you a MikroTik router as a gift!

 

*It is a prerequisite to book your place in all the seminars that interest you.
MikroTik certifications:
You can see the detailed content (outline) of the courses by clicking on the active link.
MTCNA – MikroTik Certified Network Associate (view outline)
MTCRE – MikroTik Certified Routing Engineer (view outline)
MTCWE – MikroTik Certified Wireless Engineer (view outline)
MTCTCE – MikroTik Certified Traffic Control Engineer (view outline)
MTCUME – MikroTik Certified User Management Engineer (view outline)
MTCSE – MikroTik Certified Security Engineer (view outline)
MTCINE – MikroTik Certified Inter-Networking Engineer  (view outline)
MTCSWE – MikroTik Certified Switching Engineer (view outline)
Events in December 2023
Mon

Monday

Tue

Tuesday

Wed

Wednesday

Thu

Thursday

Fri

Friday

Sat

Saturday

Sun

Sunday